If you're anything like me then March is your absolute favorite month of the year. For the obvious reasons that the amount of college basketball consumed is on another level. With that being said, if you're a college basketball fanatic like yours truly, once One Shining Moment hits and reality sets in that you have to wait a painful eight months to watch college basketball, depression hits, and it hits hard. But before the college basketball season is lost and forgotten and we all shift gears with the NBA playoffs right around the corner. Let's take a second and enjoy my March Madness Superlatives and relive some of the best moments of the tournament. Biggest Upset: MTSU over Michigan State. Like any other year of the tournament this year too came with its fair share of upsets, but I don't think any of us expected MTSU dominate over national powerhouse Michigan State with such authority. With an early MTSU 17-4 lead, watching the game you just knew the Spartans would make their run. Slightly closing the gap in the second half, Izzo and his boys came close but the superb play of MTSU's Reggie Upshaw was enough to bust everyone's bracket (including mine) sending the Big 10 Champs home with an early first round exit.
Biggest Heartbreak: Easy choice. Northern Iowa. Down 12 to Texas A&M with .44 seconds left, the Aggies managed to make an unprovable comeback sending the game into overtime eventually advancing to the Sweet 16 by a final score of 92-88. It was unlike anything I have ever seen before. As a fan you're rooting for A&M to make a comeback for the ages, but at the same time seeing the look of shock, pain, and disbelief on the faces of the UNI players not knowing who to cheer for. Definitely one of March's magical moments none of us will ever forget.
Buzzer Beater:On Wisconsin. With a trip to the Sweet 16 on the line, Bronson Koenig drilled a three pointer deep in the corner in front of his own bench as time expired. It was beautiful and perfectly executed, such a work of art, and a tough shot at that too.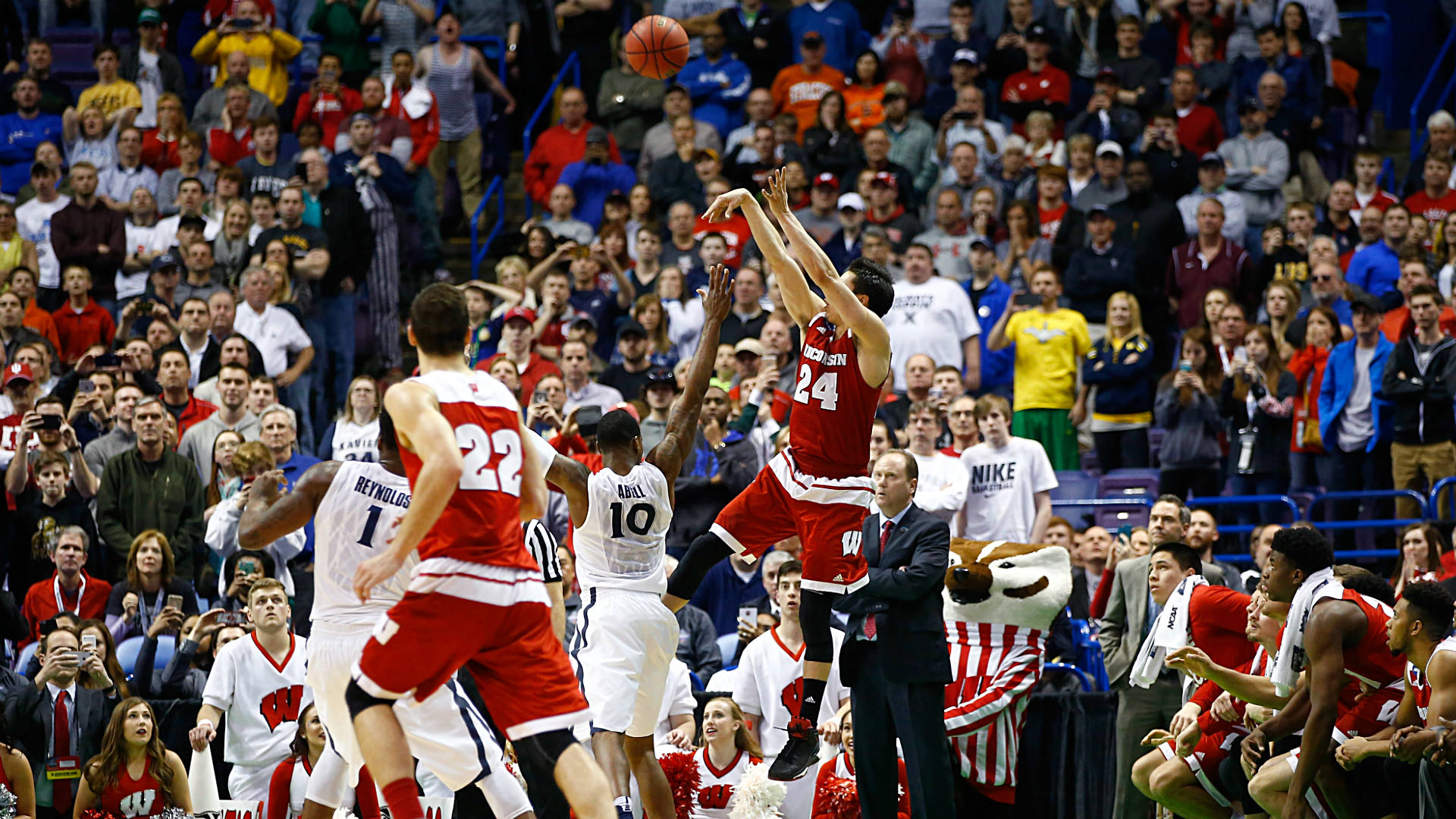 Biggest Disappointment:Press Virginia. Maybe a biased pick here as a Big 12 fan, but watching the Mountaineers knock of everyone in the Big 12, I just knew West Virginia was poised for a deep run in March. Boy was I wrong. West Virginia, got West Virginia'd by Stephen F. Austin. Coming into the first round match up UWV was leading the nation in nearly every defensive category forcing teams into a frenzy turning the ball over with their unconventional press. Little did we know that SFA was going to force UWV into 22 turnovers and 70-56 win.
Biggest Surprise: I think we can all be in agreement that Syracuse surprised us all this March somehow finding a way to Houston, when many people argued The Cuse' didn't even do enough to earn a spot in the big dance. With a so so 9-9 record in ACC play, and loss to Pitt in the conference tournament, picking Syracuse to advance to the Final 4 was none the less far-fetched. But it's March, and once again we are proven wrong that anything can happen this time of the year.
Best Moment:Kris Jenkins, Villanova. Just when the entire basketball world was amazed at the pump fake, hanging in mid-air, deep three pointer by North Carolina's Marcus Paige. Kris Jenkins stole the show as teammate Ryan Arcidiacono drove the length of the floor with less than 5 seconds remaining in regulation pitching the ball back to Jenkins stepping into a wide open three pointer as time expired to seal the deal for the Wildcats claiming the national championship. Can't think of a better moment than that now can we? Didn't think so.
Best Swag: Until a few weeks ago, the name Thomas Walkup had no significance to me. The kid is a straight baller, and I thoroughly enjoyed watching him play. So much so that I put the feelings of my bracket aside, and hopped on the Stephen F. Austin bandwagon which ultimately fell short in the round of 32 against Notre Dame 76-75. Walkup single-handedly alienated West Virginia in the first round dropping 33 points scoring at will. He's game was so smooth. But the best part? Walkup having a killer instinct to go along with a steady demeanor of "yeah this is what I do," the entire game. Complete swag, and I'm definitely a new fan!
Just wanted to share my favorite Memories of March with you all. Let the countdown begin...going to be a long 8 months without the love of my life, college basketball :(